Fooman Inbound Promotions (Magento 1)
Get a better return on ad spend by using smart, limited time welcome and discount campaigns.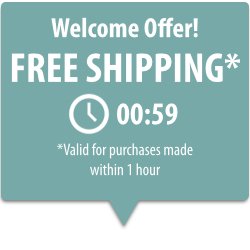 Turn visitors that you've paid to acquire into customers
Paying for new inbound traffic is expensive - but encouraging new visitors to complete a purchase from your store can make all the difference between an immediately profitable campaign or a money-drain.
Maximise returns on paid campaigns by using limited time welcome offers for new visitors that create a sense of urgency to buy. Give first time visitors a great reason to buy from your store – before they move on to check out the competition.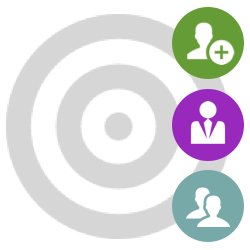 Highly targeted promotions
Improve profit margins by reserving your best promotions for specified paid visitor traffic that you want to convert into customers.
Spend your marketing budget where it counts the most.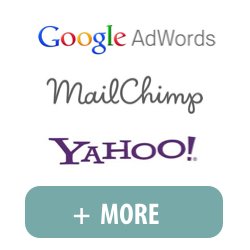 Maximise conversions from Google Adwords, affiliate links and more
Welcome offers can be used with any campaign or traffic source where you specify the link address. It's a great way to show a targeted marketing message and promotional offer from the original traffic source right through to your Magento store.
Maximise your return on investment and grow your revenue from these important traffic sources.
How does it work?
It's easy! Simply choose any shopping cart price rule, create a campaign (via any channel where you can specify the link address), then use this extension to generate a tagged campaign URL.

When a visitor clicks onto your website via the campaign source, the promotion will be automatically displayed as a sticky banner on each page they browse. The banner can include an optional countdown timer to motivate visitors to complete their purchase and to maximise your chances of winning them as a customer.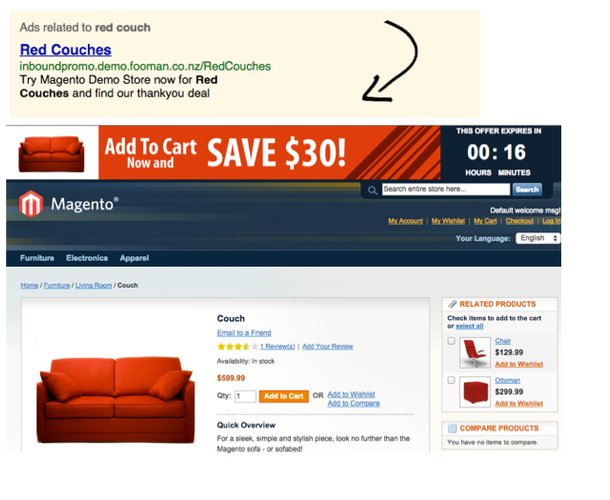 The offer/discount will be automatically applied at checkout. The visitor can choose to exit out of the banner at any time.
---
Feature List
Create promotions targeted to chosen traffic sources or campaigns, using any shopping cart price rule (such as discounts, free shipping or free gift offers)
Apply promotions to traffic from Google Adwords, content banners, Mailchimp campaigns, affiliate links, landing pages, and any other channel where you can specify the link address
Displays promotions banner at the top of each page visited
Choose to put a time limit on offers, using an optional timer countdown and timeout for each banner that starts from when the visitor arrives on your site
Upload your own banner designs (recommended), or use Magento's WYSIWYG editor to create your own customer converting banner
Promotions are automatically applied at checkout (no coupon code needed)
Choose to restrict offers to first time visitors only (option to disable the banner and offer for known repeat visitors)
Track the success of your promotions using Google Analytics
Multi store capable – use any shopping cart price rule, whether for a single store or multi store
Quality extension with no core classes or files overwritten
Quick and easy to use - configure welcome promotions in minutes from the Magento backend via the user friendly interface
---
Reviews
Wow!
Exactly what I was looking for. Easy to install and configure and, so far, is working perfectly. This is a really valuable extension. Please develop for Magento 2 as well!!
Review by Carl
About time!
This addresses the complex situation that we have been internalising for more than a year now - and with nothing suitable in market the self dev path was not feasible. Bonus that Kristof has built it - we have confidence in Kristof. Can't wait to get this integrated. Thanks man.
Review by David
Excellent module
Exactly what we've been waiting for - well built module and allows us to target inbound adwords traffic with certain offers
Review by davevesternet
Add your Review
Please login to share your review of this Fooman extension
Frequently Bought Together With
Changelog
1.0.7 Fix for promo that can be used both as standard and inbound in conjunction with a coupon code

1.0.6 SUPEE-6855
1.0.5 Keep our own cookie instead of relying on the inbuilt one
1.0.4 Initial Fooman Release
1.0.0 Initial release

Money back guarantee
We stand behind the quality of our extensions with a 30 day money back guarantee
Free updates
All extensions include free updates for 12 months
Simple user manuals
Easy to understand user manuals show you how to get the most out of your extension
Open source code
Our code is 100% open source and unencrypted. Easily add your own customisations
Quality support
Our friendly team provides expert product support and troubleshooting
Easy licensing
One license per Magento installation, including multi store setups and test sites. Easy!
Kristof, Lead Magento Developer
Any Questions?
Get in touch and I'll give you my honest opinion about whether I think this extension is right for you