Fooman Flexible Navigation Menu (Magento 1)
Customise Magento's top navigation menu in minutes with this powerful developer tool.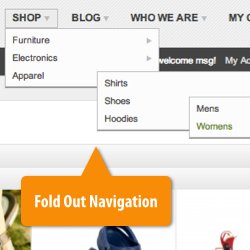 A better customer experience
Simplify navigation to keep customers browsing your store for longer. Make it easy for people to find the information they want – link to your FAQ's, contact page and much more.
Create a logical menu structure using fold out navigation options and parent headings to make browsing easier and keep your site looking great. Organise CMS pages and product categories hierarchically.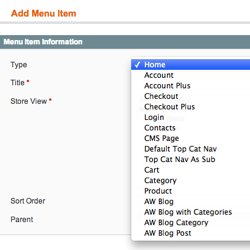 Comprehensive and flexible
Create a professional navigation menu by mixing and matching 17+ different page types.
Add CMS pages, checkout links and even individual product pages – whatever makes sense for your store. Your mix and match options are unlimited.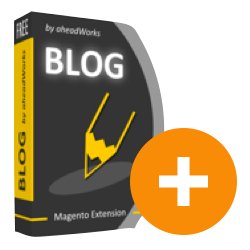 Aheadworks blog integration
Websites with inbuilt blogs attract more visitors and perform better in Google search results.
Effortlessly integrate your Aheadworks blog blog with your store. Link to your blog's main page, or include a fold out menu linking to blog categories or even individual blog posts.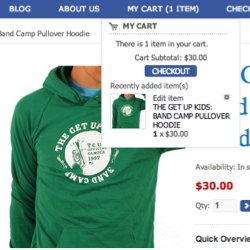 Hover cart
Make it easy for customers to complete their purchase.
A hover cart will show customers the items in their cart when they hover over the "Cart" menu item, and include an easy link to checkout.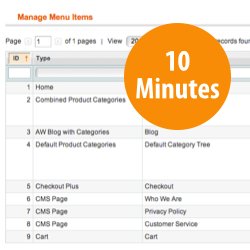 Quick and easy to use
Set up or modify a navigation menu in just 10 minutes from the Magento backend - even without technical knowledge. No need to spend time and effort on manual coding and customisations.
The extension has been tested by users with basic Magento knowledge and was given a thumbs up for being easy to use.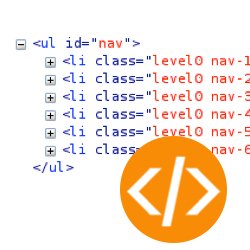 Smart, fully integrated code
The extension works with the existing store theme and makes full use of Magento's CSS navigation elements. The result? A fully integrated navigation menu without editing template files or repeating custom design work you spend hours on.
It uses the same structure as native Magento's navigation menu, so you can retain existing menu items and category trees while adding new items.
---
Feature List
Easily add, manage and delete menu items in the backend
Fold out navigation and parent headings to organise pages hierarchically – hover over a main menu item to view sub categories, products and child headings
Custom naming for most menu items
Easily change the order of menu items
Navigation block is fully cached so the top menu loads lightening fast
Fully integrates with your existing Magento theme and CSS
Integrates with hover effects (if supported by your existing Magento theme)
Quality coding - fully integrated with standard Magento code, with no core classes rewritten. It's been extensively tested and we even use it on our own website
Supports multi store setups
Add any combination of the following to your top navigation menu:
Home page
Checkout page (can be configured to appear only when a customer has something in their cart)
Cart (with hover mini cart functionality)
Account page (with optional 'logout' dropdown box when customer is logged in and hovers over this menu item)
Login page
Contact page
Content/CMS pages
Group all product categories under a user friendly parent heading (eg. "Shop" or "Browse Products")
Product category
Individual product
Aheadworks blog – main page/main page with fold out categories/category/blog post
---
Reviews
Should be part of the core
It's such an obvious and stupid thing, but adding links to the top menu in Magento is a pain. This extension cures all the problems in one go. Adding menu items is intuitive, easy and simple. All the core classes (active, parent, etc.) are added so you don't need to mess about to make your nav work properly. Great extension for an excellent price.
Review by Tim
Great Code - Great Company
This code is exactly what I like...clean and straightforward. I love the features Blog link, hover Cart... Kristof also helped with a slightly messy upgrade which involved removing some older code....A+++
Review by Jonas
Fantastic!!
This is a great extension - takes all the headache out of configuring the navigation menus manually especially when it comes to adding custom non-catalog links to the menu. The support is great as well - super fast and the team helped me iron out the few styling issues I encountered. Highly recommended!
Review by Rachel
Add your Review
Please login to share your review of this Fooman extension
Frequently Bought Together With
Changelog
1.1.0 Added ability to restrict administrator access by admin role

1.0.6 Support for Magento 1.9.0.1 RWD theme
1.0.5 fix product url on category pages
1.0.4 Add store id in single store mode
1.0.2 Add Title Only Menu item
1.0.1 fix product url
1.0.0 Initial Release

Money back guarantee
We stand behind the quality of our extensions with a 30 day money back guarantee
Free updates
All extensions include free updates for 12 months
Simple user manuals
Easy to understand user manuals show you how to get the most out of your extension
Open source code
Our code is 100% open source and unencrypted. Easily add your own customisations
Quality support
Our friendly team provides expert product support and troubleshooting
Easy licensing
One license per Magento installation, including multi store setups and test sites. Easy!
Kristof, Lead Magento Developer
Any Questions?
Get in touch and I'll give you my honest opinion about whether I think this extension is right for you