Fooman Same Invoice Order Number (Magento 1)
Consistent order, invoice, shipment and credit memo numbers
By default, Magento assigns a separate number to orders and related documents (invoices, shipments and credit memos). Once installed, this extension ensures that when a new invoice, shipment or credit memo is created, it will always take the same number as the associated order.
For example, for order #1000, the associated invoice would be #1000, the shipment #1000, and the credit memo also #1000. This is a simple and popular approach for tidy record keeping and easy document identification.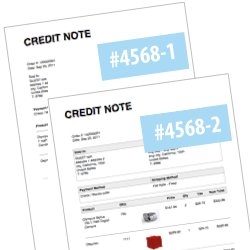 Automatic duplicate separation
In the event of multiple invoices, shipments or credit memos associated with the same order, a duplicate separator will be used.
For example, the first invoice would be #1000, the second #1000-1, the third #1000-2, and so on.
---
Feature List
New invoices, shipments and credit memos are automatically assigned the same number as the related order
Automatic duplicate separation in the event of multiple invoices, shipments and/or credit memos associated with the same order
Does not change any historical data - only future invoices, credit memos and shipments will be changed
This extension can be particularly useful for businesses that ship and sell high volumes of products. Your customer benefits by only ever having to reference one number consistently displayed on all documents.
Want to take it further? Our Fooman Order Number Customer extension provides the ability to fully customise order, invoice, shipment and credit memo numbers using any combination of letters, numbers and dates.
Reviews
Works Perfectly in 1.9.2.1
Easy to install, easy to use and works perfectly in the latest version 1.9.2.1
Review by Liz
It is not working in 1.9.2.1
It is not working in 1.9.2.1. I deleted all my orders and tried to get this working. No luck. All new invoices start with +1 last default Magento number. If you don't update this extension please let you customers know about this issue. Our response: Thanks for the feedback. The issue sounds like it is coming from the use of an extension that deletes orders. We have written about the pitfalls of using such an extension years ago here http://magebase.com/magento-articles/magento-extension-reviews/deleting-orders-in-magento-extension-roundup/ If you are able to reproduce this without deleting orders please let us know steps to reproduce and we will take a look. Our tests the extension working on 1.9.2.1
Review by Cata
Works perfectly on CE 1.8
Perfect! Thank you Fooman.
Review by MT
Works Perfectly
Working perfectly on 1.7.0.2 didn't have'to modify or edit to work.. Thanks alot!
Review by Jesse
Works perfectly
Downloaded it, read instructions, installed it, tested it: Works Great! Thanks for this extension.
Review by Ruud
I am using magento 1.6.1. I have used this extension before (older version) to fix a paypal problem that was causing an error. Exception' with message 'Wrong order ID: "200000016". Well upon completion it is not actually changing the invoice number like it used to.
Review by twick100
This button has been removed in more recent versions since this now needs to be enabled by default.
Response from Fooman
Hi, This is working great for orders created from the Magento website, BUT I am also use the M2E extension for syncing with Ebay. All the orders which are being imported from Ebay are using the invoices numbers following on from the out of sync ones, not the order number. Has anyone else got this issue and if they have do you have an idea as to what to do to fix this?? Cheers Dave
Review by darkless
Flawless install on 1.6.2.0 Like others have said, if your getting a 404 on the config page, log out and back in.
Review by SouthernSpring
1.6.2 not working with this extension. Thanks
Review by hanka2
Not for me :-( here is broken link 404 when you click on left-nav URL "Order numbers". Thanks
Review by hanka2
worked perfectly! Thanks Footman :) Installation Directions for 1.5.1: Go to Configure - Magento Connect - Magento Connect Manager - Paste the extension URL - click "Install" - wait for the prompt - click "Refresh" - DONE!
Review by arturgrig
Works fine for me on 1.6.
Review by malpayne
Cannot get it to show up on 1.5.0.1. I copied to the appropriate folders, cleared cache (both through backend and manually), and logged out and back in, clearing my browser cache as well. I do have the Fooman Speedster module installed as well - any compatibility issues with this? I have both modules in the Fooman folder in app/code/community. Ideas?
Review by jborbj
Works great with 1.5.1.0 and ASchroder's Set Custom Order Number. Another quality extension from Fooman! Thanks a bunch!
Review by jkmseo
Works as far as settings etc. on 1.5.1.0. Installed via MagentoConnect. To not get the 404 on the configuration page one needs to log out and log into the backend as stateted by @mycustompc.
Review by helmutlangmann
I had the same problem. Funny enough I had to log out, shut down explorer. Restart explorer, log back in and it worked.
Review by mycustompc
I just installed latest version on 1.4.1.1 and now I get a blank page on system-config-sales-order numbers? Any ideas why?
Review by Rykman
please use the latest - currently that would be 2.0.1
Response from Fooman
So if I am running 1.4.1.1, am I supposed to use 1.0.4 or the latest release?
Review by ezrlee
Add your Review
Please login to share your review of this Fooman extension
Frequently Bought Together With
Changelog
9 Code Style Improvements 2.0.6 compatibilty with Magento 1.6. prevent duplicates is now mandatory
2.0.1 compatibilty with Magento 1.4.1 - added option to add suffix in case of multiple invoices,shipments, creditmemos per order
1.0.4 potential fix for no invoice number for payment gateways like authorize and sagepay (thanks to thaddeusmt)
1.0.3 fixed int to string conversion for prefixed invoice number (hosted credit cards)
1.0.2 optional prefixes for invoice, shipment and creditmemo numbers
1.0.1 fixed issue for hosted payment gateway solutions - SQL constaint
1.0.0 Initial Release
Money back guarantee
We stand behind the quality of our extensions with a 30 day money back guarantee
Free updates
All extensions include free updates for 12 months
Simple user manuals
Easy to understand user manuals show you how to get the most out of your extension
Open source code
Our code is 100% open source and unencrypted. Easily add your own customisations
Quality support
Our friendly team provides expert product support and troubleshooting
Easy licensing
One license per Magento installation, including multi store setups and test sites. Easy!
Kristof, Lead Magento Developer
Any Questions?
Get in touch and I'll give you my honest opinion about whether I think this extension is right for you