Fooman Google Analytics + (Magento 1)
Advanced analytics and features for your Google Universal Analytics Account
Go beyond the standard features and gain a deeper insight into your store performance.
The extension adds a dozen new options to Google Analytics, including conversion tracking, the ability to filter reports by customers, and enable first touch tracking for advanced marketing insight.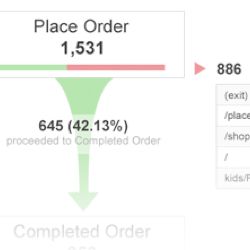 Understand conversions with a checkout sales funnel
Create a sales funnel to understand where potential customers are 'dropping off' during the checkout process, to improve your store and boost conversions.
Track every step of the checkout process, including sections retrieved via AJAX during one-page-checkout.
Track Google Adwords conversions
Track conversion rates and money earned for purchases made on your store via Google Adwords.
Advanced options allow you to track in a variety of languages and currencies.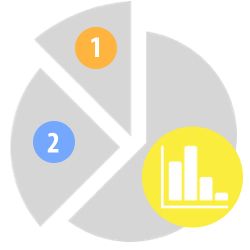 Compare and analyse Magento multi store performance
Easily combine Magento multi stores (subdomains) into a single Google Analytics account, for simplified comparison and analysis.
---
Feature List
Supports Google Universal Analytics (Classic Analytics are no longer supported)
Create a sales funnel to track each step of the checkout process (including sections retrieved via AJAX during one-page-checkout), and pinpoint precisely where potential customers are 'dropping off' during the checkout process
Optionally track to a secondary profile
Optionally enter a domain name - useful if you want to combine multiple sites in a single analytics account
First Touch tracking with thanks to Will Critchlow from www.distilled.co.uk and Ashley Schroder - read all about the technique here (no file edits needed)
Filter Google Analytics reports by customers
Track Adwords conversions for purchases
Track page load speeds
Anonymise visitor IP addresses for privacy
Use Google remarketing script to support display advertising
---
Featured In
Ten Killer Magento Extensions (Ebay Developers Program)
Recommended Magento Modules - A Crowd-sourced List (by GPMD)
Reviews
Unsupported
We purchased the set up option and, a week later, despite several emails back and forth, we are still waiting. We now receive less information from GA than before. The instructions for setting up in GA are out of date and response is hopeless. Response from Fooman: Hi Michael - thanks for your feedback. As per your pre-sales inquiry you are using Klarna as your payment extension and asked if our extension is compatible. To which we replied we have not had prior experience with this payment method but that our extension works with most payment extensions as long as the standard Magento checkout is used. As became apparent working together with you on this, is that Klarna completely replaces and circumvents the normal Magento checkout. I reviewed our emails to you and agree we could have been clearer on this a bit earlier on, but we were also waiting on information from you to help in finding a solution. We have subsequently adjusted your existing goal to match the new unified page views to provide a working solution within the constraints of the Klarna checkout.
Review by Michael
Best in Show
This extension has solved the headache of running a multi-store setup while still tracking analytics, adwords, and conversions separately per store. The support team is phenomenal. If you don't have this on your site, you are missing out!
Review by Steven
Remarketing Errors
Hi, According to Google, the Re-marketing tag needs to include the custom parameters even when the information is blank. As an example, the homepage should read as follows: <script type="text/javascript"> var google_tag_params = { ecomm_prodid: '', ecomm_pagetype: 'home', ecomm_totalvalue: '' }; </script Currently, with the Fooman Google Analytics for Magento the homepage reads: <script type="text/javascript"> var google_tag_params = { ecomm_pagetype: 'home', }; </script Is this something can be fixed? Thank you, Justin Fooman Response: Hi Justin - thanks for your feedback on our in-development version. This has all been resolved in the latest release. Cheers, Kristof.
Review by Justin
Works Prefect
Thanks for the extensions (i have more than one:) ) this one works just great too. I have magento 1.7.0.2. No problems. I haven't set up multipleshipping addresses checkout yet but the code looks good.
Review by Joseh
Organic vs. CPC
Very nice Script, thank you for sharing. It´s look like, the tracking-code isn´t working correct. On my site i only habe cpc traffic, but 40% of this is declared as organic traffic in GA. Also the GA Debug for Chrome not working for this extension (only in the checkout).
Review by Tim
Same here, does not seem to work on 1.7.0.2 :(
Review by JohanEnglund
In Germany we don't have the permission to save and log IP-addresses. So, i have disabled in apache2 the saving of IP-addresses in Log files. I also enabled the anonymize of Google Analytics with the Foomann Google Analytics Plus module but remember: Magento show IP-addresses in the Customers online grid. Maybe Fooman can expand his Extension and remove the grid and saving of the IP-Address? When is this Extension stable Release?
Review by neofelis
We've created a fork of the module to support _setSiteSpeedSampleRate (_trackPageLoadTime is deprecated). You can find the module here: https://github.com/ho-nl/Fooman_GoogleAnalyticsPlus
Review by HO__NL
you are using Magento's compilation mode. After installing / uninstalling or making any other code changes to your Magento install you need to rerun the compilation process. It is also recommended to turn it off before making any changes.
Response from Fooman
Not getting Analytics data since upgrading to 1.7.0.2, any idea why? Thanks
Review by rickhuisken
Same problem here... on 1.6.2
Review by somzok
same problem here 1.6.2
Review by somzok
I'm not seeing the conversion code at the success page. I'm using a custom template, what can be wrong? Everything on Backend is enabled and the codes correct inserted. Help please, Thanks.
Review by somzok
its show me error using magento 1.5.1 Warning: include(Fooman_GoogleAnalyticsPlus_Model_System_Language.php) [function.include]: failed to open stream: No such file or directory in /home/xxxxs/public_html/home/includes/src/Varien_Autoload.php on line 93 #0 /home/xxxxx/public_html/home/includes/src/Varien_Autoload.php(93): mageCoreErrorHandler(2, 'include(Fooman_...', '/home/xxxx/pu...', 93, Array) #1 /home/xxxxx/public_html/home/includes/src/Varien_Autoload.php(93): Varien_Autoload::autoload() #2 [internal function]: Varien_Autoload-autoload('Fooman_GoogleAn...')
Review by rajdavinder
I cannot get the Google Analytics funnels to work with this extension. Anyone with a solution? Magento: 1.4.1, 1.6.2
Review by YannickMoeneclaey
if you get: community/Fooman_GoogleAnalyticsPlus: Version for 'Fooman_GoogleAnalyticsPlus' was not detected go to magento conect manager - setting and choose Preferred State: - 'beta'
Review by Erzgebirge
This extension does not work period on 1.7.0 Sure you can add the patch or change the Ga.php file and it will show in google analytics live the steps as your checking out, but it does not show your funnel exits properly. I'm sure people like to see their goals being fulfilled but this is not as much help when you can't see what steps they exited on. I tried head match, exact match, opc links and even without opc links. Finally I even tried applying the ajax listener to the opcheckout.js file. Just does not work no matter how you install it. Hope you can fix this bug soon :)
Review by tech0925
1.7.0 works fine since edited Fooman's line 65 of code Ga.php - changed version number 1.7.0 to any value greater.
Review by kaimin
original magento analytics was not working for me. so I installed this, hoping it fixes the problem. Magento 1.6.2.0 I have custom theme. I can see your js files in header and I entered correct Analytics code in Google API. in Google Analytics, I change the domain from www.maboutique.co.uk to the new one new.maboutique.co.uk Why is it not working? It's Sale season and I can't track anything. I need help quick :(
Review by Hadifarnoud
For people having issues with getting the extension to work on Magento 1.7, I have posted a patch that addresses the issue. http://goo.gl/nQ8Pm
Review by tudor.sitaru
Add your Review
Please login to share your review of this Fooman extension
Frequently Bought Together With
Changelog
0.17 New Features - ForceSSL - thanks Hans Nieser, Use Website Code in URL - thanks Pieter Hoste, Add Option to use Enhanced Link Attribution - thanks @teesid Move sending of page tracking event to the bottom of the page

0.16 Supports Google Universal Analytics only (support for classic Analytics withdrawn)
0.11.5 Use Google Remarketing Script
0.11.2 Removed rc=1,getAdditional calls are now filtered out
0.11.1 Fix typo
0.11.0 Compatible with Magento 1.7
0.10.6 make Conversion Label configurable
0.10.5 Added option to track site speed (trackPageLoadTime)
0.10.3 Fix anonymiseIP object, set a custom var for customers and repeat customers (thanks Sebastian)
0.10.1 Added option to enable anonymiseIP
0.10.0 Added option to track to a secondary profile and FirstTouch tracking (optional)
0.9.7 Magento reports pages as /checkout/onepage/ and /checkout/onepage/index/ - index/ is now filtered out from page names
0.9.6 Fix packing error in 0.9.5
0.9.5 Moving ga code into head hopefully fixes reports of underreported IE visits
0.9.2 Made the keyword tracking optional (off by default)
0.9.1 Updated to newer Google JS Snippet
0.9.0 Add support for Magento 1.4, changed to asynchronous JavaScript call, added support for google adwords conversions, added support for specifying DomainName for tracking, removed previously included robots.txt file
0.8.7 Bug fixes introduced with 0.8.5
0.8.5 Cleaned up call to _toHtml()
0.8.4 Using a correcter way of constructing JS url
0.8.3 Fixed https issue
0.8.2 Added new event opc-review-placeOrderClicked
0.8.1 Changed reported path names to be consistent with rest of Magento
0.8.0 Added support for tracking checkout sections loaded via AJAX

Money back guarantee
We stand behind the quality of our extensions with a 30 day money back guarantee
Free updates
All extensions include free updates for 12 months
Simple user manuals
Easy to understand user manuals show you how to get the most out of your extension
Open source code
Our code is 100% open source and unencrypted. Easily add your own customisations
Quality support
Our friendly team provides expert product support and troubleshooting
Easy licensing
One license per Magento installation, including multi store setups and test sites. Easy!
Kristof, Lead Magento Developer
Any Questions?
Get in touch and I'll give you my honest opinion about whether I think this extension is right for you