We've launched, welcomed 16+ new members, and have been campaigning hard on important Magento marketplace issues. Get the inside scoop on ExtDN from Founder Kristof Ringleff.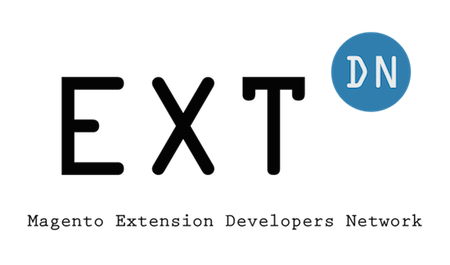 ExtDN - The backstory
ExtDN (the Magento Extension Developers Network) was born late last year, after many long and enthusiastic late-night discussions with fellow extension developers from Aheadworks, Webshop Apps, Ebizmarts, Genmato and Sweettooth.
But before launching into what we are all about, let me first paint a picture about why ExtDN launched.
A lot has changed in the Magento ecosystem since 2007. The extension market has exploded, both in terms of merchant demand and the number of developers creating products. Most of this growth is healthy and helps Magento to thrive in such a competitive global market for e-commerce software.
But not all of this growth has been positive. Like many developers, I've been growing increasingly frustrated with how the Magento extension market has evolved. Cowboy 'developers' churning out rubbish and disappearing without a trace after the payment hits their bank account. Copycat "me too" extensions cluttering Magento Connect but not adding any real value. Plus - and this really upsets me - a growing problem with outright extension fraud and piracy.
I often hear from Fooman customers who are grateful to have found our extensions after enduring frustrating and unacceptable past experiences with other developers. Someone told me just the other day that their experience with Fooman was a 1 in 10 occurrence. Sure, it's a nice thing for me to hear, but this stinks from an industry perspective. Poor quality extensions put merchant stores at risk and give the whole industry a bad name. When people have a bad experience with any extension developer, they will be hesitant to purchase any new extension in the future - regardless of who from.
Most extension developers are honest and produce quality products that add fantastic functionality to Magento. ExtDN was designed to bring these developers together and give us a stronger voice.
At the same time, the transition to Magento 2 and development of the new Magento Marketplace offers a significant and unprecedented opportunity to work together with Magento. Extension developers have an important role to contribute to these discussions. After all - the success of Magento and the marketplace depend on having effective, well-regarded extensions to support merchant needs. As a group of like-minded developers, we can contribute our views to Magento more effectively and credibly.
It's also worth emphasising what a fast-paced, chaotic and stressful time it is for extension developers right now. Magento 2 is here - but as with any new product launch, many tweaks and iterations await us. The availability of core extensions is typically an important factor for merchants when deciding to move over to M2. This means extension developers need to act fast and make early decisions on product investment - a) while M2 is developing rapidly and changing month to month, and b) without (except in rare cases) paying customers or any guaranteed return on investment. Developing good working relationships with Magento, as well as other developers, is essential to surviving, and hopefully thriving in this new M2 environment.
What in the name of Magento is ExtDN?
Officially, ExtDN is:
"A network of leading Magento extension developers who share a common vision for a thriving Magento ecosystem with the merchant's success at heart. Collectively, ExtDN members are committed to advancing Magento as the world's leading e-commerce platform for merchants."
A lofty goal - so let's break it down.
A network of leading Magento extension developers...
We set out to represent the best and brightest developers with a true commitment to the Magento ecosystem. Leading doesn't refer to extension numbers or sales figures. Leading means genuinely caring about product quality and support. Providing merchants with a trusted product that will help to accelerate their store. It means being an ethical and responsible seller, respecting copyright and using open source code in the spirit it's intended to be used.
...who share a common vision for a thriving Magento ecosystem with the merchant's success at heart
Merchant success is everything. Extension developers exist to provide merchants with useful features that help to save time, make more sales, or otherwise improve their stores. Without successful merchants, there would be no Magento and certainly no extension development business.
How can we as extension developers support merchant success? We've defined four areas:
Innovation - promoting innovation in extension ideas, features and code
Coding standards - in particular we believe code should be free from modifications to the Magento core, malicious intent, plagiarism and encryption on functional code
Collaboration - working together to maximise compatibility between ExtDN extensions
Support - providing great and timely support if merchants run into issues
We're not attempting to define or write the rulebook for good practice extension code. It is not our role to "police" extension coding or competitive standards. These are issues for Magento to tackle over time, and ExtDN is ready to contribute to this conversation.
Collectively, ExtDN members are committed to advancing Magento as the world's leading e-commerce platform for merchants
Our members believe in Magento and are heavily invested in its success. This means contributing thoughts and expertise to community discussions and projects, and 'giving back' to support an open source platform. It means working with Magento to constructively present our views on how the ecosystem can work even better.
Longer term, our aim is to build up trust in the ExtDN brand with merchants. We aspire for ExtDN members to be recognised as trustworthy and accountable partners who will benefit from a competitive edge when merchants look to purchase extensions.

Who is ExtDN for?
ExtDN members are passionate Magento developers who care about quality, ethics and a fair Magento marketplace. ExtDN provides a forum for exchanging thoughts and ideas, supporting each other, and providing feedback to Magento.
Members range from single extension businesses to powerhouses with 100+ extensions. We span a mind-boggling number of timezones. Most members have been working with Magento since the early days, while some are relative newcomers.
There are two requirements to join ExtDN:
Members are Magento developers whose core business is to develop and sell extensions
Members hold themselves accountable to high standards of coding, copyright and business conduct (via the Code of Conduct set out on our website)
We place high importance on ethics and reputation. Therefore, as part of the application process we ask that developers name a current member sponsor to support their application. Developers who are newer to the scene and are not yet connected to an ExtDN member are also welcome to apply - we can help to put them in touch with relevant members. Applicants must be approved by all ExtDN members, who have a say on whether an applicant meets the Code of Conduct based on past behaviour.
What are ExtDN's priorities?
Our top priority over the next year is to provide feedback on the new Magento marketplace. It's crucial to get this right for the platform to remain the marketplace of choice for merchants and developers.
ExtDN has been heavily involved in the new Magento Marketplace Council. We are generally pleased with many of the improvements that have been made to build on the M1 Magento Connect marketplace. But ExtDN's view is that there is still some way to go.
Currently, we are hard at work advocating for:
A fairer commercial agreement for extension developers - there are still several areas in the contract which need urgent attention or clarification to give developers a fair deal and make it attractive to list on the Marketplace
Tighter controls and enforcement around extension plagiarism
Improvements to the Marketplace end user experience - mainly for merchants searching for extensions as well as system integrators working on behalf of merchants. ExtDN members have a wealth of knowledge from selling M1 extensions and have contributed a range of suggestions to Magento.
The upcoming changes to the Magento partner program are also something we'll be following closely and providing feedback to Magento on.
Like what you've read? Join us
Ready to join ExtDN on our mission? Click here for more information and to join us.