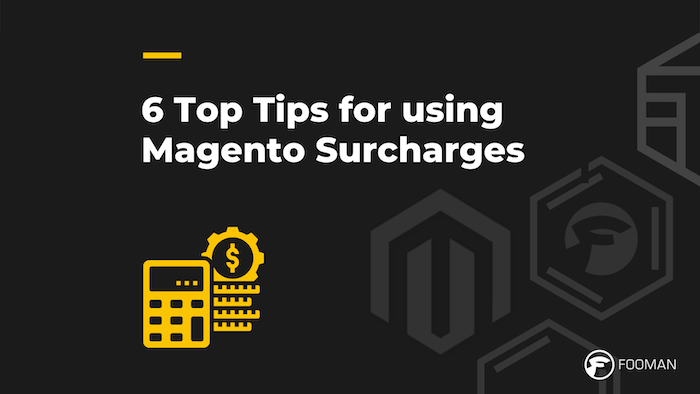 For many businesses, surcharges are a good way to keep base prices down and recover specific, customer-driven costs to your business. Surcharges are a common part of the online buying experience in many industries.
We developed Fooman Surcharge for Magento 2 because we think that surcharges can be an effective way to recover some extra costs and fees of doing business online. This lets your keep your base product and shipping rates competitive which is essential for a high-converting e-commerce site and low abandoned cart rates.
Having the right surcharge strategy in place for your business is really important to win the trust of your customers.
Read on for our six top tips for using surcharges the right way on your Magento store.
1. Keep surcharges fair and reasonable
The golden rule for retaining customers' trust is to keep surcharges fair and reasonable. The purpose of a surcharge is to recover specific (and often avoidable) costs, not to increase revenue or claw back the cost of expenses that should really be included in your base product or service charge.
Think about what belongs in the product base price and what is legitimately a surcharge cost. If you're on a flight, the taxes you paid were a fair surcharge, but you wouldn't be too happy having to pay a surcharge to use the bathroom!
How do you judge what's fair? Imagine you're shopping for a similar product and ask yourself if you would be happy to pay the surcharge. Be honest - does it seem fair?
Reasonable surcharge fees can include things like:
shipping surcharges - express shipping, extra packaging fee for breakable items, customs fees, shipping insurances for high value items
payment surcharges - credit card processing fees, PayPal surcharge, admin fee for cash on collection - you want to target your highest payment costs only
product or category based surcharges - recycling/disposal charges, set-up fees, bulky item handling charges
minimum order fees where customers wouldn't otherwise be permitted to order from your store due to minimum quantities
optional gift-wrapping options.
2. Offer options
It's good practice to offer options so that a customer is not forced into selecting a surcharge option (it's not really optional at this point, is it?).
For example, you might include bank deposit and credit card as a standard payment options (no fees), but use a surcharge if a customer wants to pay by Paypal which has higher fees. Some customers will be happy to pay for the convenience and protection that Paypal offers - while others will simply choose the standard payment route for no extra fee.
We always recommend keeping your lower cost payment options without any surcharges. This way, you encourage customers to use these payment methods instead.
3. Check your national and local regulations
Do your homework and check with your payment providers before implementing a surcharge. Some countries prohibit the use of surcharges on credit card payments. In the USA, for instance, rules differ by state. The good news is that most states have trended towards relaxing the rules in recent years.
The best way to find out what's applicable to you is to contact your payment providers and ask them directly if you are permitted to charge a payment surcharge. (We haven't included any specific details here because regulations are ever changing and depend on which part of the world you operate from).
4. Consider your market… and your competitors
If your product is highly price-competitive, surcharges can be a good way to still deliver the product at a low base cost while offering customers the flexibility to "upgrade" their product with extras.
On the other hand, if your products or services are aimed at the premium end of the market, customers might expect to have everything included in the price.
Research whether your closest competitors use surcharges. If your competitors don't use surcharges, consider your options. Will surcharges allow you to offer a lower base price and potentially attract more customers over your competitors? Or is it more likely to put people off? The answer will depend on knowing your customers.
5. Pay attention to how customers react to surcharges
Not sure whether a certain surcharge is helping your bottom line? Test, test, test to optimise your surcharge effectiveness.
Keep an eye on your analytics and customer comments to make sure you're on the right track. Visualise your sales funnel in Google Analytics (you can do it with our free Google Analytics + Magento 2 extension). It's easy to set up and lets you assess where potential customers are dropping off at various stages of the checkout process.
You can also use A/B testing such as Optimizely or Google Analytics to run detailed experiments.
6. Use an accurate surcharge description
Don't get lazy with your surcharge labels. Explaining the purpose of the surcharge honestly and clearly helps to maintain trust with customers, and avoid the customer feeling like you're hiding something from them in complicated hidden fees.
Surcharge descriptions should clearly communicate the amount and purpose of the surcharge. It should be clear to customers why this fee is not included in the base price of the product or service. This can be a good formula to use:
Surcharge amount + surcharge purpose + fee/surcharge/charge
For example, "2% PayPal processing fee" or "$5 new wholesale customer set-up surcharge" are clear, transparent surcharge labels.
Ready to give surcharges a try?
Our Magento 2 Ultimate Surcharge Bundle extension) lets you create flexible surcharges and extra fees in Magento in minutes. Create unique conditions and exclusions to target any use case.
We also have lightweight, individual surcharge extensions available for specific Magento 2 surcharge needs: