Fooman Print Order PDF (Magento 2)
Generate a new 'Order Confirmation' PDF for easy order management in Magento 2.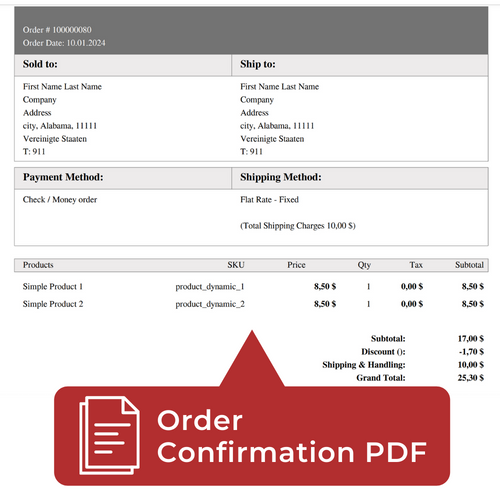 Order Confirmation PDF Documents for Magento 2
An Order Confirmation document contains the same information as an invoice, using Magento 2's default PDF design.
You can even use the Order Confirmation PDF as a Packing Slip to bypass the standard Magento 2 workflow.
If you want great-looking branded Order PDFs with custom information, check out the Fooman PDF Customiser Magento 2 extension.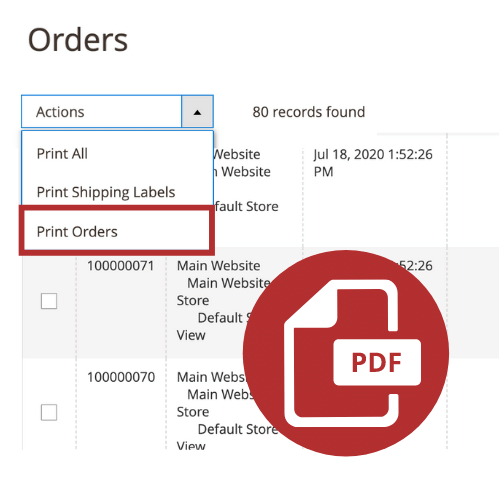 Print Orders of Any Status
This free extension lets you print orders with any order status, even if they haven't been invoiced yet:
Print an Order Confirmation PDF for a single order from the individual Order View page
Generate a bulk Order Confirmation PDF for multiple orders from Magento's Order Overview Screen. All selected orders will be displayed in a single PDF document.
You Might Also Like
---
Reviews
Change to PDF Font
This extension works great. The only issue you will face is that the print size of your PDF files will be 3.2MB. This can be solved by changing the default font to a PDF Font (HELVETICA or ROMAN) by creating a custom module.
Review by Rod
Helpful extension
This extension working fine. But is there any way to remove pdf after download. Cause it is adding many files in var folder. Our response Not all versions of Magento that we currently support allow the deletion of just created files in the var folder. Once we drop support for 2.2.x we will merge in a change already on our Github repository that will do this.
Review by Hardik
Not able to install
.update_in_progress.flag" cannot be created. Fooman Response: This currently looks to us like a permission issue. Please check that your current user (as well as cron user if you are using Web Setup Wizard) can write files to your Magento folders.
Review by Manish
very good but...
i installed it. it is very good. However, SKU value is not right. i can see SKU value like this "/home/mg222/public_html/pub/media/catalog/product//d/i/dis2-5937-gold-1.jpg" SKU value shows image path and name. Fooman Response: As per our email our implementation for the display of items uses the default Magento implementation for invoice pdf items - see here: https://github.com/magento/magento2/blob/2.3-develop/app/code/Magento/Sales/Model/Order/Pdf/Items/AbstractItems.php#L383 It looks like your system has a customisation in place which changes the SKU print value which is outside the scope of this extension.
Review by sungmo
very usefull
The extension fills a large gap in the magento core. Simple and functional, I suggest installing it.
Review by LucaS
not working
Package fabpot/php-cs-fixer is abandoned, you should avoid using it. Use friendsofphp/php-cs-fixer instead. Generating autoload files Response from Kristof @ Fooman: Thanks for your feedback. As per our support conversation, the error message you encountered is unfortunately a general notice message for a package used by Magento itself. This notice does not impact the installation or the functionality of the Print Order Pdf extension in any way.
Review by Roland
bug
the module have a bug, doesnt charge the order the view in the admin Response from Kristof @ Fooman: Thank you for your feedback. We tried to contact you for more information on this but unfortunately did not receive a response. Currently we are unable to see any bugs on the admin order view and would need more information to assist.
Review by miguel
Very helpful extension.
Install instructions did not work. I needed to extract the compressed files, move them to the /vendor/fooman/printorder-m2 directory and add: php magento setup:static-content:deploy to the procedure. Our Response: Thanks Joe for leaving a review. We will be in touch to confirm where our installation instructions can be improved upon. Extracting the zip file should happen automatically by Composer.
Review by joe
Add your Review
Please login to share your review of this Fooman extension
Changelog
[3.3.6] - 2023-03-06

Added - Compatibility with Magento 2.4.6.
Added - Support for Php 8.2.

[3.3.5] - 2022-08-03

Added - Compatibility with Magento 2.4.5.

[3.3.4] - 2022-03-29

Added - Compatibility with Magento 2.4.4.
Added - Support for Php 8.0/8.1.
Added - pt_BR translation thanks to Vitor Martins.

[3.3.3] - 2021-07-29

Added - Compatibility with Magento 2.4.3.

[3.3.2] - 2021-04-30

Added - Compatibility with Magento 2.3.7.
Money back guarantee
We stand behind the quality of our extensions with a 30 day money back guarantee
Free updates
All extensions include free updates for 12 months
Simple user manuals
Easy to understand user manuals show you how to get the most out of your extension
Open source code
Our code is 100% open source and unencrypted. Easily add your own customisations
Quality support
Our friendly team provides expert product support and troubleshooting
Easy licensing
One license per Magento installation, including multi store setups and test sites. Easy!
Kristof, Lead Magento Developer
Any Questions?
Get in touch and I'll give you my honest opinion about whether I think this extension is right for you